First we'll go over how to use the downloadable MT Litho templates. Once you download a template to your computer, you'll need to uncompress the .zip file. The zip file contains three items: an .indd (InDesign CC), .idml (for older versions of InDesign), and a .pdf (for use with any program).
When you open one of the template files, you'll see visual indicators for bleed, trim, and a safe zone. The red line is the bleed, black is the trim, and magenta represents the area that you want to keep important graphics or text inside of. Most of the templates have an eighth of an inch bleed & safe zone; that is fairly standard in the printing industry. If you'd like to learn more about bleed, check out our Bleed and Crop Marks 101 blog post.
Downloadable Templates
Clicking on a template below will automatically save it to wherever your browser is set to download files. If you are unsure where that is, you can also right click the link and save it. These templates are all meant to get you started with your project. If you don't see the exact size you need, download the closest option and simply change the document size.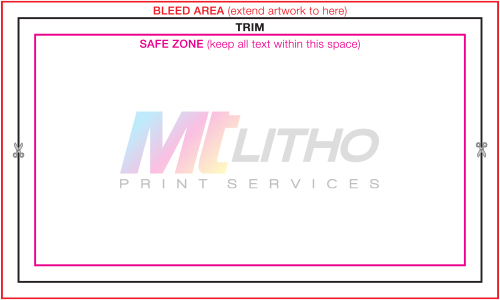 Business Card (Horizontal)
Business Card (Vertical)
6-Panel Brochure (11×8.5)
4-Panel Brochure (11×8.5)
Letter (8.5×11)
Letter Envelope (#10)
Return Envelope (#9)
Postcard (9×6)
Invite (5×7)
Folding Invite (10×7)
Invite Envelope (A7)
Banner (8×3)
Poster (24×36)
Sending Your InDesign Files To Us
Make sure there are no images or text boxes completely outside the document boundaries. If it's not going to print, you don't need it in the file you're sending us. Save your document. Place all the fonts and images used in your document into a folder and compress/zip it. A quick way to do this is to use the Package feature in InDesign (it can be found under the File menu). Giving us access to this "working file" is also helpful if you need us to make a quick change to the text or artwork for you. Upon receiving your InDesign working file, we can create the print-ready PDF. If you'd like to send us the final print-ready PDF, we have detailed instructions on how to create that in our Bleed and Crop Marks 101 blog post too.
If your print-ready PDF or working file package .zip is less than 10MB, feel free to email it to info@mtlithoprintservices.com. If it's larger, you can upload it directly to our secure Dropbox here.
---
Hopefully this answered some of your questions on the basics of submitting files for print. Check out our other How-To posts for more helpful info, or give us a call at 949.988.7777. We're happy to walk our customers through any issues they're having with a print job.
-Scott
Graphic Artist at MT Litho Print Services